We work hard to provide products that satisfy customers by fusing the know-how cultivated over many years with the latest equipment.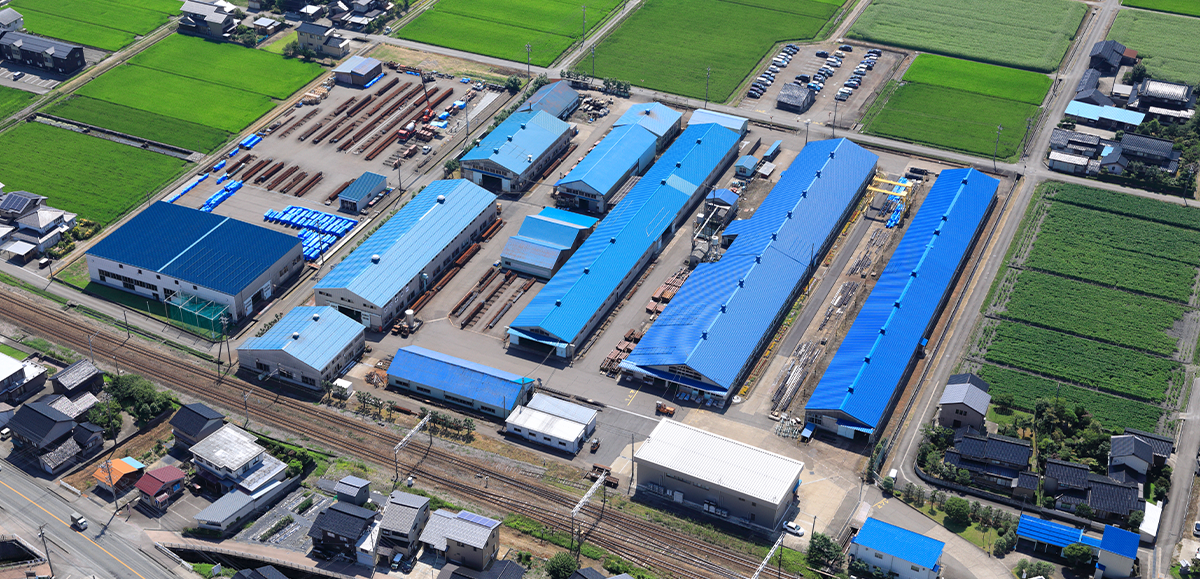 Rail materials warehouse and Sawing Shop
Store rail materials in the warehouse to prevent rust and deterioration due to the wind, rain and snow.

Saw the rail materials to specified size with the Band Sawing Machine, and those rails are distributed to each shop.
Forging Shop
After heating to near 1,000 ℃ in the heating furnace, the ends of tongue rails and compromise rails are hot forged by 1000t press machine to form different rail's shape. Wing rails of crossing are also forged here.
Heat treatment Shop
After heating with the furnace, perform heat treatment of "QT method" by cooling with water and tempering, or "SQ method" by cooling slowly with air.
Heat treatment is performed onto the rail head of tongue rail, crossing, and guard rail in order to enhance wear resistance.
No.1 Machine Shop
Process tongue rails, stock rails, and guard rails with the large Machining Center.
Process long tongue rails for Shinkansen with the Gantry Miller.

Remove distortion of the heat-treated rails and finish with the Rail Bender.
Each rail after heat treatment and cutting has individual distortion, therefore, expert skill is required to detect and to correct it.
No.2 Machine Shop
Cut rails with a Five-sided Machine, Machining Center, NC Planer (with CNC device), etc.
Assembly Shop
Manufactured parts are aggregated from each shop, and then pre-assembly and inspection are performed.
At the Assembly Shop, many types of turnouts in various sizes can be assembled at the same time, even large special layout turnouts.
Glued Insulated Joint Shop
Manufacture Glued Insulated Joint Rails which are ordinary type for conventional line and special type for an earthquake countermeasures of Shinkansen.
Put the rail-shaped insulator between two rails' cross sections, attach dry-type adhesive and fish plates and heat with the heater.
Open shipping yard
Load onto a truck using two large gantry cranes.
After that, products are delivered in safety driving to the destinations of all over the country.
Development and Test, Design, Analysis
FEM analysis

Hardness testing

Load testing (Toyama Industrial Technology Research and Development Center)